In July 2020, the "Non-automatic vending machine" of the anniversary pop-up store of Mixc World, CR Land (Shenzhen), has won the Bronze Prize of the 2020 Asia-Pacific Stevie Award [INNOVATION IN MARKETING], through strict evaluation from over 100 judges among over 1000 Asia-Pacific commercial projects. After the ADC (Art Director Club of New York) Annual Silver Award, ADM (Asia Design Management Forum & Ideal Life Fair) Business Innovation Award, this is the 3rd international grand award that KAI has won, among its creative planning projects produced for Mixc World.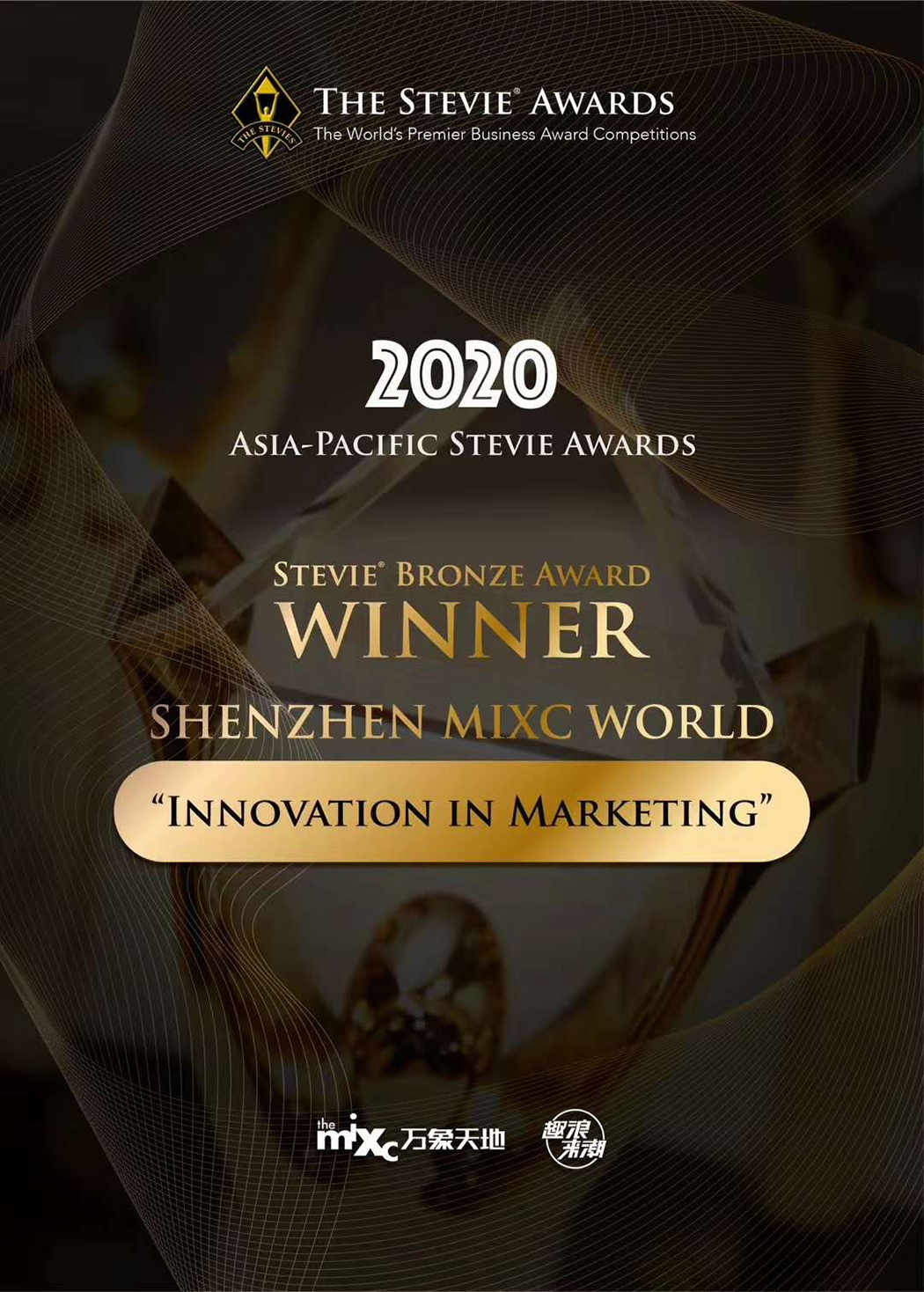 click"MIXC POP-UP STORE for MIXC WORLD 1st ANNIVERSARY"
The Stevie Award® - "The highest honor of American business world"
Stevie is derived from the Greek for "crowned". As the world's premier business awards, the Stevie® Awards are known as the highest honor of American business world, with eight Stevie Awards programs, the Asia-Pacific Stevie Awards, the American Business Awards®, the International Business Awards®, the German Stevie Awards, the Stevie Awards for Great Employers, the Stevie Awards for Sales & Customer Service, the Stevie Awards for Women in Business, and the newly set Middle East Stevie Awards. Altogether, the Stevie Awards receive over 12,000 entries a year across over 70 nations, conferred for achievement in business to organizations and individuals for 18 years.
With culture and creativity, empower brands and brighten life.
From branding before the opening, to content management after, KAI has been working with Mixc World for nearly 4 years, and witnessed the birth of an urban trendy landmark.
Through the insight into commercial trends, KAI keeps empowering commercial brands with culture and creativity, and allows them to narrow the distance between the public and the city through campaigns, thereby to forge the unique brand identity.
Winning the Grand Stevie Award is a brand new start for both Mixc World and KAI, where we anticipate creating daily fun for the public, in hands with more brands.